Join us and The New Social at the Calvert 22 Bookshop to meet artist Yevgen Nikiforov for the UK launch of his new book and to hear him talk about the disappearing mosaics of Soviet Ukraine.
Yevgen writes, "For this ongoing series I've been visiting all regions in Ukraine since 2014 to photograph local monumental art pieces and establish their history. I want to present them clean of the intrusive visual noise of post-Soviet cities that never quite got over their gung-ho capitalism. Many works are more than half a century old, yet they resemble archeological relics obscured by recent occupation layers. Stripped of ideological context and lost in today's aesthetics, Soviet monumental art had become a mere backdrop, as integral as the air we breathe, and equally invisible."
Yevgen will talk about Ukraine's recent "decommunisation" laws and transformations of public spaces, his methods of field research, and how his photo hunt turned into a book. He will also present some of the most interesting examples of what he found and shot.
The book will be available for purchase and to be signed by the photographer.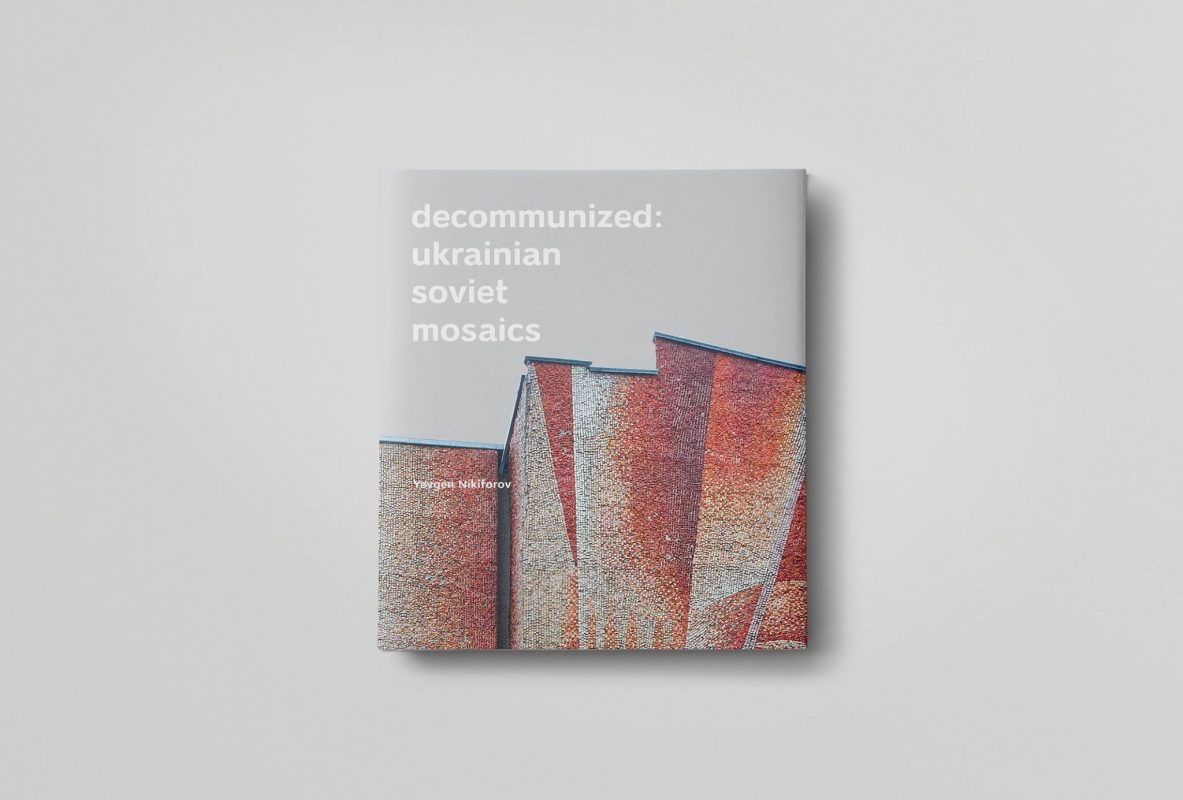 About the book
Decommunized: Ukrainian Soviet Mosaics presents the first comprehensive study of Soviet monumental mosaics, outstanding artefacts of the cultural heritage of the era. Photographer Yevgen Nikiforov spent three years traveling all around Ukraine (including the presently occupied Autonomous Republic of Crimea, Donetsk and Lugansk oblasts) in search of the most interesting art pieces of the 1950s–1980s within the context of Soviet Modernism. He covered 35,000 km of Ukrainian roads and visited 109 cities and villages to discover more than 1,000 surviving mosaics.
The book includes around 200 unique photographs of monumental panels: officially sanctioned gigantic images of workers, farmers, astronauts and athletes of coloured smalto or ceramics illustrate Soviet life as it was meant to be represented. Some of the pieces featured here were demolished shortly after the photographs were taken: they fell afoul of the so-called decommunization laws that ban communist symbols and slogans. Though the content of Soviet art was meticulously controlled by state propaganda, Ukrainian artists managed to develop a visual language that transcends the Socialist Realist canon. Today these works serve as historical testimony, and show a new important page in the 20th-century art history.
About the artist
Yevgen Nikiforov is a Kyiv-based photographer born in Vasylkiv, Ukraine, in 1986. He started his professional photography practice in 2005. Since 2013 has been working on independent documentary projects. As a freelance photographer he works with Ukrainian and international media. His current ongoing project examines transformations of public spaces in Ukraine after the Revolution of Dignity (2013–2014). From 2014 Yevgen has been searching for and documenting remains of Soviet monuments and art objects in public space.
Since 2005, DOM publishers have been publishing premium books on architecture and design as well as architectural journals with experienced editors, graphic designers and architects all work together at the interface of theory and practice.
Osnovy Publishing was founded in Kyiv (1992). Over the past twenty years, Osnovy has published over three hundred titles. Today Osnovy is actively developing a new range of books – books with unique content and design, conceived and created by Ukrainian authors, designers and illustrators. From beautifully crafted coffee table photography compilations to a range of children's books and fun travel guides – Osnovy's repertoire continues to grow.
About The New Social
The New Social is an independent London-based collective that stages public programmes – including film screenings, talks and special projects – as a way of rethinking the New East. The New Social was founded by Olya Sova and Anya Harrison.
Booking terms: pay what you wish
For a limited number of our events, attendees can pay what they wish for admission via Eventbrite. The suggested admission fee is £5. Please follow the booking URL to finalise your order.